OCMD Island to Island Half Marathon / 5K 2020
May 2 @ 7:00 am

-

1:00 pm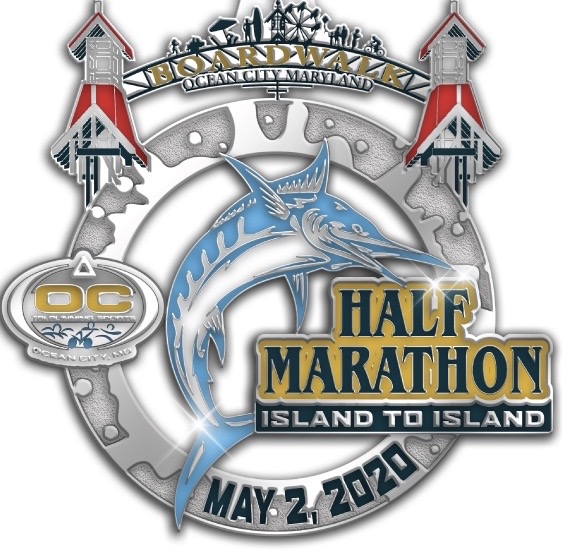 COVID-19 Alert
In the best interest of our runners, volunteers and our community, OC Tri Running Sports will be canceling this years Island to Island Half Marathon and 5K. All runners who have signed up for this race will be given a refund. We are asking for your patience as we work through this process. The refund will be coming from Active.com and they are inundated right now with all the race cancellations around the world. As soon as the refunds are available you will be contacted through email. Please keep checking our website for any updates or additional information. We thank everyone for your continued support and we want to wish everyone health and happiness during these unsettling times!
Packet Pickup/Registration:
Friday, May 1, 2020
Location:
Ocean City Inlet Parking Lot 809 South Atlantic Ave. Ocean City, MD. 21842 Under large white entertainment tent, closest to the beach.
Times:
2pm to 4pm
Fees:
Individual:

$75 now until
$85 - October 30, 2020
$95 - March 27, 2020

Military:

$65 now until
$75 - October 30, 2020
$85 - March 2020

5K:

$25 now until
$35 - October 30, 2019
$45 - March 27, 2020
Saturday, May 2, 2020
Attention Runners: Please be sure to remember to wear you race bib on the front of your shirt. Also, reminder to have your two drink tickets and food ticket for Post Race Party. Here are some Important Race Day Schedule of Events:
HALF MARATHON RUNNERS ONLY
Saturday, May 2 at 5:15am-6:15am: Runners will begin loading busses in alphabetical order using the letter starting with your last name. Location of bus pick up will be in the Ocean City Inlet Parking lot. Once you are loaded on the bus you will be transported to the Start Line located at Assateague Island State Park. We Strongly Recommend you follow the bus Schedule as Follows:
Last Name
Departure Time
A-H                   5:15am I-P                    5:45am Q-Z                   6:15am Last Busses to Head to Start.
Bus Schedule as Follows:

IMPORTANT Notice
Buses are for Half Marathon runners only! We cannot provide transportation to the start for family and friends. If you cannot make your assigned bus departure you will be responsible for finding your own transportation to the starting area on Assateague Island.
Please try to make every effort to be on time
, both Half Marathon and 5k races will start at 7:00 am. The
LAST BUS
will leave at 6:15 a.m. There will be
NO
transportation to Assateague once this bus leaves the Ocean City Inlet Parking Lot. Again: HALF MARATHON RUNNERS ONLY. You are responsible for labeling your own gear check in bag with the adhesive label given to you. Only the bag given to you at packet pickup will be accepted as gear check in bag. No other bags or luggage will be accepted. Gear check in will be located at The Assateague State Parking lot / Start area. There will be 2 designated School busses waiting to be loaded. Using your Bib # please find the appropriate bus for you gear bag.
5K Runners Saturday, May 2, 2020
Starting at 5:45 am There will be Packet Pick Up for 5K Runners under Entertainment Tent.
At 6:45 am: 5k Packet pickup closes. THERE IS NO BAGAGE CHECK FOR 5K RUNNERS.
6:50 am: Runners line up in starting corral for National Anthem. Please be on time!
7:00 am: Half Marathon begins race at Assateague Island & 5k runners begin at the Ocean City Inlet Parking Lot.
8:30 am: Post Race Party begins at the Inlet Parking Lot under the Entertainment Tents.
9:30 am: 5k Awards will Start under the Entertainment Tent
11:15 am: ½ Marathon awards will start under the Entertainment tent.
1:00 pm: Post race party ends.
Note:
For Safety reasons there are No family members ald in Finish Line Area as well as designated runners cool down area during and after event. There will be Food and Beverage tickets sold inside the Entertainment tent race day for Family and Friends.
You must show Proper ID to get any alcohol beverages. No ID /NO Alcohol. State Law.
No Pets Allowed in Entertainment Tent. City Rules.
All Runners please be advised to be considerate to the Volunteers. Again, they are Volunteers.
Thank You!