LINKS to the BAY 5K
October 8, 2016 @ 8:30 am

-

11:30 am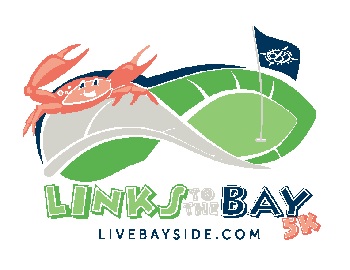 WELCOME TO THE 2016 2nd ANNUAL LINKS to the BAY 5K!
 
RACE RESULTS ARE UP!
Please visit the RESULTS page to find your race results.
RACE START/FINISH:  The Point, located by the pier/water sports area at 8:30am.
RACE DATE:  October 08, 2016 at 8:30am
RACE FEES:  $35.00 "includes after party"
AFTER PARTY FEES (this excludes the 5k race and t-shirt):  $20.00 for 21 years and older, $10.00 for under 21 years old.
This event is held to help support the Delaware Center for the Inland Bays.
Race fees include:

A breakfast buffet w/Bloody Mary Bar
A nature wildlife demonstration
Live music
Race T-shirt
Children's activities
Awards ceremony

RACE INFORMATION
RACE FEES
$35.00 (plus a small online registration processing fee), this includes 5K race and After party (all activities mentioned on flyer above).
$20.00 (21 years and older)    $10.00 (under 21 years old), this includes the After party and all activities mentioned on flyer excluding the 5k race and race t-shirt.
There will be day of registration October 08, 2016 at the Point starting at 7:30am.
PACKET PICKUP TIMES AND LOCATIONS
Saturday October 08, 2016      7:30am - 8:15am at the Point near the pier.
AWARDS AND AGE GROUPING
1st place overall, Male and Female 1st, 2nd Place Age Group Awards for the following age groups: 14 and under, 15-19, 20-29, 30-39, 40-49, 50-59, 60+
BIB TAG TIMING
This years races will be timed using the IPICO Bib Tag system.  There will be an orange rectangular sensor placed on the back of your race bib.  Please do not bend or fold your bib and make sure you properly pin your race bib to your shirt front without piercing the sensor.  These sensors do not need to be collected, when your race is finished you are free to keep the sensor along with your race bib.  Your race bib is unique to you so please do not trade or give your bib to anyone else.
PROHIBITED ITEMS
Bicycles, rollerblades, skateboards and pets are not allowed oncourse during the race.  Baby joggers are allowed.  These rules are for your safety as well as others on the course with you.  Anyone violating these rules will be immediately escorted off the course and out of the race.
REFUND AND TRANSFER POLICY
There are no refunds or transfers for this event this year.
REGISTRATION OPTIONS