LIVE LIFE LIKE ROB (LLLR) 5K RUN / 1 MILE FUN RUN-WALK
October 15, 2016 @ 9:00 am

-

11:00 am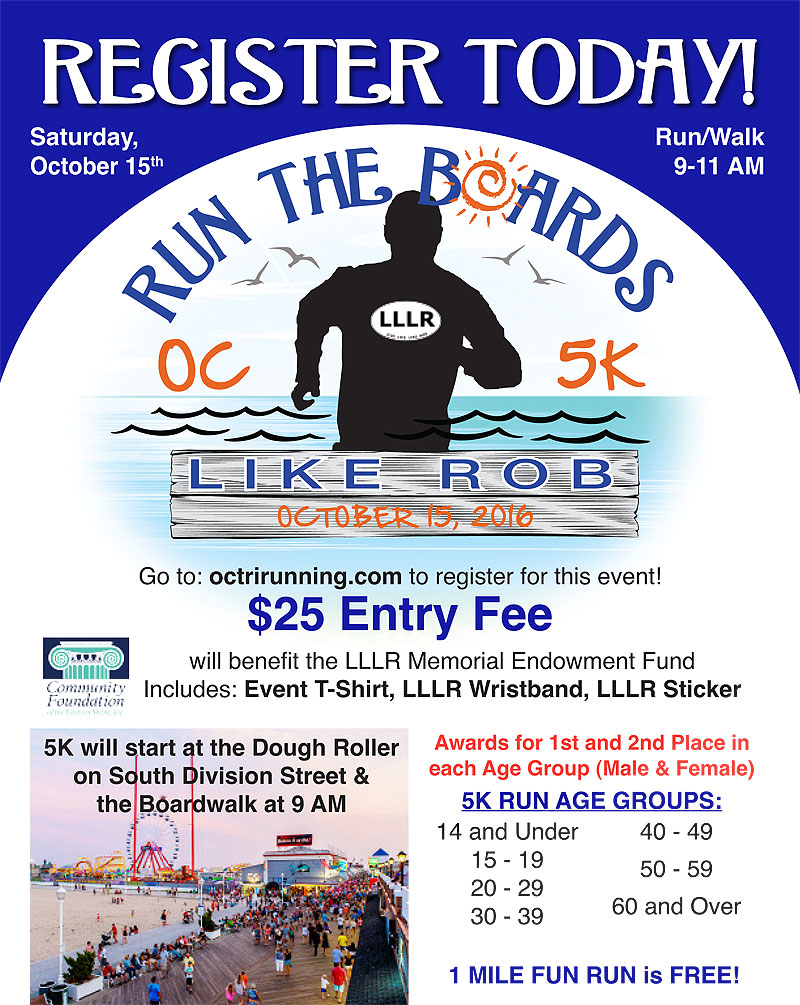 WELCOME TO THE 2016 RUNNING OF 
LIVE LIFE LIKE ROB (LLLR) 5K RUN / 1 MILE FUN RUN-WALK
SPONSORED BY:
 
Race the Boards with Rob
Suddenly on October 16, 2015, Rob Schultheis lost his life in a tragic accident while out running.  Rob loved life itself.  The most important thing in life to him was the people that surrounded him.  Those people were his family – didn't matter if they were actual family members or not!  This is what Rob loved about the Eastern Shore.  That was just part of his extended family.  He grew up on the other side of the bridge but when he graduated from Salisbury University in 2000 – he never came "home."  He made a new life on the Shore and really enjoyed the friendships and new "family" that he found there.  Rob involved himself in almost anything he could.  Rob gave 110% to everything he did – especially his family, but he always had time to help out in the community.  It was more than just something to do – it was a great way for him to bond with his friends and really helped to mold him into the man that he became.  He was a great husband, son, brother, dad, and friend.  We know that he would be almost embarrassed to have all this fuss about him today – because he wasn't about recognition.  He was just about being Rob.  We wish more people Lived Life Like Rob!   We hope that you will join our new extended "family" and run with us on October 15, 2016.  All proceeds from the run go to the LLLR Memorial Endowment Fund. #LLLR
RACE START:  OCMD Boardwalk/inlet parking lot at 9:00am.
RACE DATE:  October 15, 2016 at 9:00am
RACE FEES:  $25.00
This race will Benefit LLLR Memorial Endowment Fund. #LLLR.
RACE INFORMATION
RACE FEES
5K is $25.00 (plus a small online registration processing fee).  Includes race shirt.
1mile fun run/walk is FREE!  excludes shirt but will be available for purchase at the race.
There will be day of registration October 15, 2016 at the OCMD inlet parking lot starting at 8:00am.  Day of race fee is $30.00
PACKET PICKUP TIMES AND LOCATIONS
Saturday October 15, 2016      8:00am - 8:45am       Ocean City, MD inlet parking lot.
AWARDS AND AGE GROUPING
1st place overall, Male and Female 1st, 2nd Place Age Group Awards for the following age groups: 14 and under, 15-19, 20-29, 30-39, 40-49, 50-59, 60+
BIB TAG TIMING
This years races will be timed using the IPICO Bib Tag system.  There will be an orange rectangular sensor placed on the back of your race bib.  Please do not bend or fold your bib and make sure you properly pin your race bib to your shirt front without piercing the sensor.  These sensors do not need to be collected, when your race is finished you are free to keep the sensor along with your race bib.  Your race bib is unique to you so please do not trade or give your bib to anyone else.
PROHIBITED ITEMS
Bicycles, rollerblades, skateboards and pets are not allowed on either course during the race(s).  Baby joggers are only permitted on the 5K course.  These rules are for your safety as well as others on the course with you.  Anyone violating these rules will be immediately escorted off the course and out of the race.
REFUND AND TRANSFER POLICY
There are no refunds or transfers for this event this year.
REGISTRATION LINKS
SPONSOR THIS RACE
If your company is interested in sponsorship please click on this link: